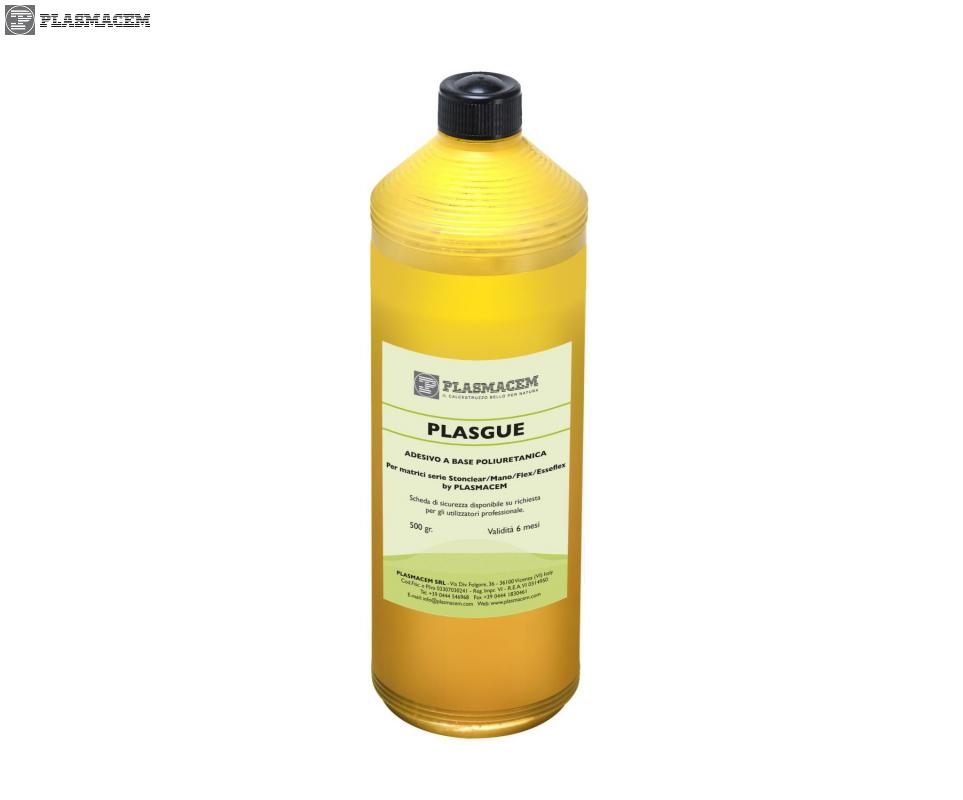 PLASGLUE is a special adhesive, polyurethane-based, single component, moisture-curing. The bonding obtained, elastic medium, it is highly adhesive and tenacious. Unlike the others moisture-curing polyurethane adhesives, PLASGLUE is odourless and free from solvents or thinners high volatility.
CHARACTERISTICS OF THE ADHESIVE PLASGLUE
• Chemical composition Polyurethane prepolymer modified
• Physical aspect Red liquid light transparent
• Odour odourless, light-characteristic
• Viscosity RVT 2.000 ± 500 m. Pas
a 23°C gir.6 a 50 gir. Min.
• Open time 15-25 min. a 20°C
• Behaviour to Excellent resistance to water, heat and cold
the weather
RANGE OF APPLICATION
For its properties of adhesion and toughness is suitable for bonding wood friezes and cornices, MDF, chipboard, wood pulp, polyurethane, between them and on painted surfaces. Suitable for bonding frames and plasterboard, between them or on surfaces described above. Ideally used for bonding polystyrene with sheet metal, laminates and wood surfaces to get insulating panels (covers industrial buildings ecc.).
ADVICE TO USE OF PLASGLUE
• Check in advance that the painted parts to be bonded are free from paraffin or have been used in paints rich in paraffin or similar, which may create anti-adhesive effect to bonding. In these cases it is good to roughen the surface with light sanding.
• Do not smear excessive amounts of adhesive, especially on thin panels to avoid that there may be warping of the panel. In these cases it is good dosing the glue to distant points, avoiding imbalances of the glued surface.
• By reason of the possible and unpredictable deformation of the panel caused also by gluing voltage, check in advance the quality of the product obtained.
• Check in advance the desired bonding.
• Ensure a sufficient humidity over the entire surface to be bonded or vaporize some water.
STORAGE
The PLASGLUE is preserved in suitable environmental conditions (away from sources of heat and direct light temperature of 20-22°C) for around 6 months, in original unopened containers.
PACK
• Pack of 500 gr. in plastic bottles with dispenser spout
---
Общий каталог
Вся продукция матриц, созданная на нашем эксклюзивном патенте.
David Thomson
CEO Big Ocean Resort
Ho contattato l'assistenza per un problema tecnico. La pratica è stata velocemente presa in carico e risolta al meglio. 10+
Anna Jennifer
Works director Toto Ltd.
Sempre rapidi ed efficienti, certo i prezzi non sono troppo concorrenziali, ma se si vuole la massima qualità la si deve pagare. Consigliatissimi!
Tristan Vinci
Bricklayer Sunny Ltd.
Rapporto consolidato da anni all'insegna dell'efficienza, della cortesia e della puntualità. Le matrici Plasmacem sono senza dubbio le migliori sul mercato.